Tissue box holders
$20.00 $20.00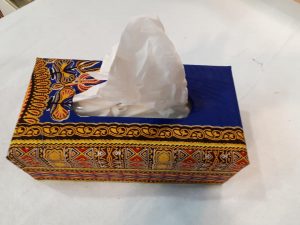 Wooden tissue box holder wrapped in African print fabric. Ideal for your office and home space.
NewLife Designs
The NewLife Designs was created to support the project's activities here in  Canada and West Africa namely Sierra Leone, Ghana, and Cote d'Ivoire. NewLife Designs has participated in several exhibitions here in Canada and this has been a reliable source of revenue. Custom made products which include African artifacts, bracelets, necklaces, African print/Dashiki /tie and dye/Batik outfits for women, men, and children, frames, footwear… Twenty percent (20%) of the revenue goes to sponsoring young women who have been trapped in an undesirable lifestyle and establishing them in their own business young women and providing backpacks for students in Sierra Leone, Cote d'Ivoire, and Ghana. NewLife Designs organizes Afro-Canadian craft classes for kids and teens every Saturday at our office location.  Our goal is to bring out the creativity in this younger generation and develop their skills which will boost their self-esteem.  We are combining modern African and Canadian crafts using African prints and accessories.
Only logged in customers who have purchased this product may leave a review.
Sorry no more offers available